The TrueCoverage Insurance Advocacy Associate Training Program
Are you interested in an exciting career that launches you into unique leadership possibilities in the Insurance industry?
Are you passionate about effectively communicating value propositions and helping people and companies to mitigate risk and recover from the unexpected through insurance?
Do you aspire to achieve customer delight by resolving customer challenges?
Are you ready to build life skills to thrive in an inclusive, open, and diverse environment that provides endless opportunities to learn, grow, and leave your mark? Then you have come to the right place.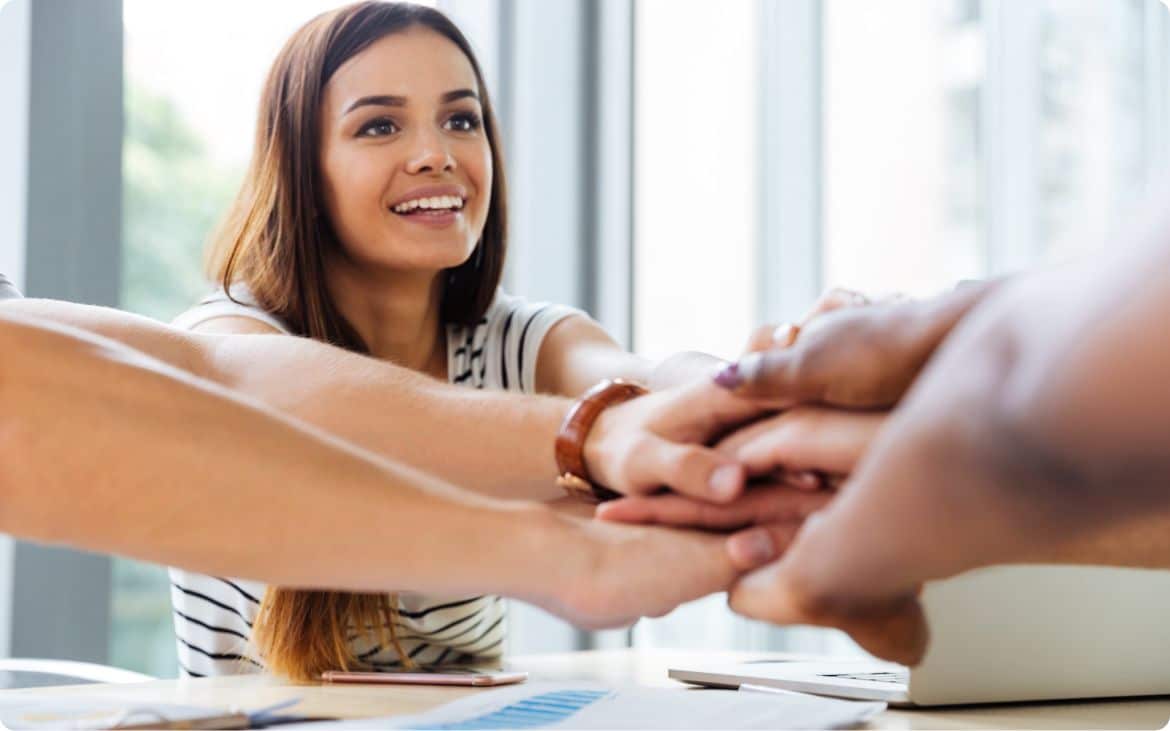 Welcome to TrueCoverage! Our vision is to be the Amazon of the Insurance industry. We are the fastest-growing agency in the nation, providing a private health insurance marketplace for individuals, families, and employers. We are a "One-Stop-Insurance-Shop" where consumers can compare and enroll in affordable health, life, auto, and home insurance plans. We offer insurance plans from more than 600 top carriers across the country. We are unique and built industry-leading technology to support all areas of operations. We are part of the larger Speridian Corporate with over 4000 employees spanning six countries.
Ready to Thrive?

All You Need is Mentoring and Professional Training!
Advocacy Associate Training Program
TrueCoverage's Thrive Program allows top-selected candidates to join our Advocacy Associate Training Program.
We will offer ideas and knowledge in all insurance business areas, inspiring new thinking in the new economy.
We will equip you with the skills to successfully navigate this era of uncertainty and transformation.
Essential training includes industry knowledge, line of business knowledge, enabling technology, transforming the self (storytelling, negotiations, judgment, decision-making, personal effectiveness mindset), and preparation for licensing and industry certifications.
Mentoring sessions supporting you through the training modules will further enhance your learning journey. You will understand the practices on how to lead with integrity, accountability, and a greater purpose.
Successful Thrive graduates will be offered a full-time salaried position with benefits and performance bonuses at one of our prime office locations in Florida, Texas, and New Mexico.
Careers in Multiple Insurance Categories
Individual Health & Medicare Sales | Commercial Insurance | Global Casualty | Property | Financial Lines | Personal Lines | Life Insurance |
Is Thrive Right for You?
TrueCoverage seeks highly inspired, results-oriented students and graduates to join our growing team!
Recently graduated either with a high-school diploma or associate or bachelor's degree. Most majors will be considered. No job experience is required.
Basic analytical, decision-making, and problem-solving skills with strong attention to detail.
Passion for succeeding in customer-facing roles – sales/advocacy, customer delight
Ability to travel to our headquarters in Albuquerque for a 6-week training program.
Ability to work evenings and weekends as part of a flexible and accommodating full-time 40-hour-per-week schedule
You will use technology for all training, licensing courses, enrollments, and continued education. Therefore, being technologically savvy is a must!
Our company practices mutual trust and respect, so strong interpersonal and verbal/written communication skills are part of our culture.
Entrepreneurial mindset.
Bilingual English/Spanish is preferred but optional; additional languages, such as Creole, Portuguese, etc., are a plus.
Applicants must be legally authorized for employment in the U.S. without needing current or future employment-based sponsorship.
About the Customer Advocacy Associate Role
After successfully completing Thrive training program, you will be offered a full-time position at TrueCoverage as a Customer Advocacy Associate in one of our competency centers in Florida, Texas, and New Mexico. Your team leader and mentor will continue to coach you in your career pathways.
Compensation
The starting salary is $35k plus benefits and TrueCoverage will cover necessary expenses to license and certify each associate.
Those who successfully complete our training tests and certifications will be positioned as Customer Advocacy Associates, your base pay will continue. You will also be eligible for a bonus amount subject to meeting sales and customer care criteria.
EEO Statement
At TrueCoverage, we are committed to equal employment opportunity and compliance with all laws and regulations pertaining to it. Our policy is to provide employment, training, compensation, promotion, and other conditions or opportunities of employment, without regard to race, color, religious creed, sex, gender, gender identity, gender expression, sexual orientation, marital status, national origin, ancestry, mental and physical disability, medical condition, genetic information, military and veteran status, age, and pregnancy or any other characteristic protected by law. Performance and qualifications are the only basis upon which we hire, assign, promote, compensate, develop and retain employees. TrueCoverage prohibits all unlawful discrimination, harassment and retaliation against any individual who reports discrimination or harassment.