Earn Gift Cards for Your Healthy Actions
Members who take healthy actions can receive up to $100 in gift cards. You can get rewarded caring for your health, whether you are scheduling your yearly wellness exam, receiving a flu shot, or taking a fall risk assessment. You will receive a $25 gift card for each healthy action from local/national retailers. Sign up for BlueCross BlueShield of Oklahoma to start earning your rewards.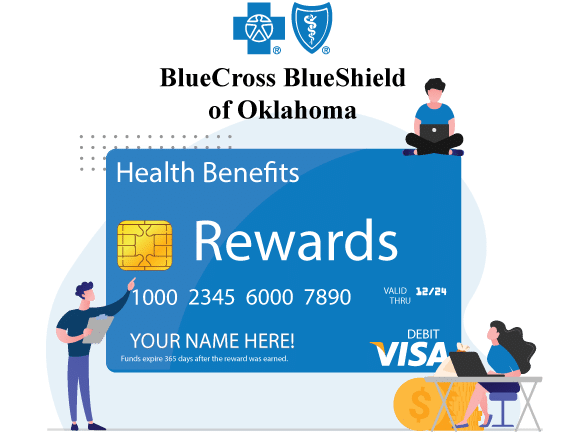 Your Rewards
You can earn up to $100 in gift cards each year. Register in the Health Activity Portal to participate in the rewards program. Once you sign up online, you'll get an email letting you know your account is set up. The Healthy Activity Portal is a website owned and run by HealthMine, Inc. This independent business that offers digital health and personal clinical engagement products and services for BlueCross and BlueShield of Oklahoma. You'll receive a gift card each time you accomplish a healthy action. It can take between 30 and 90 days after your healthy action (such as a wellness check-up or flu shot) to you receive your reward.

How to Earn Points
Completing Healthy Actions will earn you rewards. If you complete any of these healthy actions, you might have a chance to get rewarded.
Annual Wellness Visit
Annual Flu Shot
Colorectal Cancer Screening
Fall Risk Assessment
Mammogram Screening for Females
Bone Density Screening for Females
For Members Living With Diabetes: A1c Testing
Retinal Eye Exam
For Eligible Members: In-Home Assessment
Visit BCBSOK to Activate Your Account and Start Earning Your Rewards
This page summarizes a Carriers' Reward Program and may have outdated or incomplete information. Please refer to the carrier's website for the latest details, rules, and other specifics required to earn their rewards.
Pick Your Best Health Plans and Rewards
Top Health Insurance News
In today's rapidly evolving digital landscape, the search for reliable and affordable health insurance can often be a complex and overwhelming process. However, TrueCoverage, the #1 trusted insurance agency, has emerged as a transformative force in the online health marketplace.
read more